Until now, the KP Ranks mod was only intended to be able to maintain a comfortable list of service levels of each player on the server within the community. The German and American levels of service were supported from the outset. A few weeks ago, the levels of service of the Croatian armed forces were also added. This feature also works perfectly and is a part of the modset for many fixed groups as the levels of service within the community is always appropriate, independent of the mission and fully automated on the uniform of the respective player.

However, players have often asked why they cannot make them available in the arsenal or the editor, this with the background knowledge that AI-controlled soldiers can't be given their own respective level of service, which of course could be beneficial to the immersion in different missions. So far, this was not possible because the mod only affected players and there were no plans to make them available for AI units also.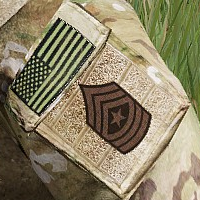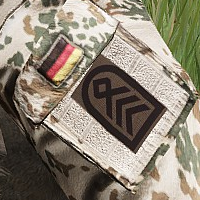 From left to right: Oberstleutnant (German "Fleckarn"), Sergeant Major (US Army), Oberstabsfeldwebel (German "Tropentarn")
With the new update to version 1.5 the waiting time for mission makers has come to an end because you can now comfortably set the level of service for each placed unit via the attribute window in the "Identity" area. Some changes to the code were also made, the levels of service are no longer placed as a direct texture. Instead, classes were created, which can then be addressed via the usual ArmA functions for assigning an insignia. Thus, the scripters' lives are also easier if they want to carry out and map any field transports or the like within the ongoing mission.
An overview of the so-called classnames can be found here:
GitHub Link
In the virtual arsenal all levels of service are available, for example, to be previewed, or the players (if the arsenal were made appropriately available in the mission) could choose and install their own. However, admins and mission makers should continue to build on the server-side allocation system, as this also reduces the players' preparation times.

Further supported forces, such as the British Army, are planned for the future. However this will of course take some time, since our own expectations of quality are always very high.
You can download the mod from the following sources:
KP Ranks
Translated from german to english by
Applejakerie
.